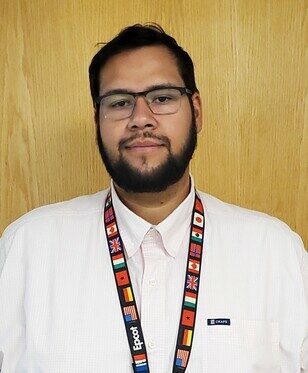 Employee Spotlight – Daniel Endara, Unit Director, Crothall HTS
We recently had the opportunity to sit down with Daniel Endara, a remarkable individual whose journey from clinical engineering intern to Unit Director for Crothall's Healthcare Technology Solutions (HTS) program at Richmond University Medical Center has been inspiring.
In recognition of his exceptional contributions, we are thrilled to share that Daniel has been recognized as one of TechNation's 40 Under 40 for 2023. He has also received the 2023 Terry Batchelor Award, which recognizes the individual who best reflects our company's values and at the same time provides leadership excellence through outstanding quality, service, integrity, and professionalism. This well-deserved recognition is a testament to his remarkable skills, unwavering dedication, and relentless pursuit of excellence. Let's get to know Daniel a little more.
 1. What were you doing before joining Crothall's HTS team?
Before joining Crothall's HTS team, I was a student at DeVry University and a freelancer selling goods on eBay to supplement my income. To fulfill the graduation requirement for my biomedical degree, I completed an internship at Nassau University Medical Center. After completing the internship and impressing the Director, John Rossetti, I was offered a full-time position as a BMET I at Crothall. I have been with the company ever since and have continued to advance in my career.
2. What is your team like?
My team is a diverse group of highly collaborative and supportive individuals. We have a strong sense of community and always look out for each other. We are passionate about our work at Richmond University Medical Center and are committed to helping each other succeed.
3. What's one thing that surprised you about your current role?
One thing that surprised me about my current role is being a part of productive high-level meetings such as the Quarterly IT Board meeting. However, I have been able to provide valuable insights and feedback, and I have learned a lot from the other participants. I am grateful for the opportunity to participate in these meetings and learn a lot from them. This experience will help me to be more successful in my career.
4. What advice would you give to your younger self?
My advice to my younger self is to avoid taking out private student loans.
5. What are some things you've noticed about HTS leadership that have inspired you?
The leadership at Crothall has greatly inspired me. Their work ethic, interactions with employees, and professionalism have left a lasting impression on me. They are a constant source of motivation for me to excel as a Unit Director, and I can always rely on their support when needed.
6. Tell us something that might surprise us about you.
I listen to a very diverse range of music during work hours, from Spanish to heavy metal. It sounds like an odd combination, but it works well for me. The Spanish music helps me relax and focus, while the heavy metal music gives me a much-needed energy boost when I'm tired.
7. When you have 30 minutes of free time, how do you pass the time
When I have 30 minutes of free time, I like to stroll on the hospital grounds. It is a great way to clear my head and take a break from the day-to-day challenges of my job. The fresh air and sunshine help me relax and recharge, and I often return to work feeling refreshed and ready to focus.
8. What have been your biggest accomplishments?
I am proud to have accomplished becoming an on-site director and improving the dynamic at RUMC by fostering a constructive connection between myself and the staff. This was a significant achievement as the bond had previously been strained. I strengthened our connection and created a more positive and productive atmosphere at the facility.
9. What resources have you taken advantage of while on our team?

The HTS internal distribution email address. This resource is often overlooked, but it is a great way to get help with troubleshooting problems. I typically get a response quickly, and the help I receive is as good if not better than OEM tech support.
10. How have you grown professionally while part of Crothall?
I have grown professionally in many ways since I started at Crothall in 2015. I started as an intern with little healthcare industry knowledge but was eager to learn and grow. I took advantage of all the training and development opportunities that Crothall offered, and I quickly gained the skills and knowledge I needed to be successful. I was eventually promoted to Unit Director at RUMC. I have learned how to manage a team, motivate employees, and achieve goals in this role. I am proud that the unit I oversee has won two consecutive awards for outstanding service.
11. What is the most unique part about working here?
The unique part about working at Crothall is the people I work alongside. Everyone is helpful and supportive; they always go out of their way to make the workday enjoyable. Someone can always make you laugh or smile, even on the gloomiest days.
Business Inquiries
Let's Talk About the Right Solution for Your Organization
Get in touch to discuss how Crothall Healthcare's services and solutions can help your healthcare organization exceed its goals. You'll learn more about:
The transparency we bring to outsourced support services
How we design customized solutions for your unique needs
The technology and innovation Crothall delivers across all our services