When several Environmental Services (EVS) managers at Parkland Health and Hospital System in Dallas, Texas, noticed an uptick in the number of associates dealing with challenging situations, then-regional patient experience manager Jasmine Barron knew that a change needed to be made.
As an organization, we at Crothall Healthcare are no strangers to caring for our employees' mental health. We offer access to counseling services through the Employee Assistance Program and offer regular wellness webinars. Associate well-being is one of the most important factors of a positive company culture and something we cultivate with each one of our Crothall family members. However, sometimes, as Jasmine knew well, associates need a little extra brightness in their day.
Each time staff reached out in difficult times, leaders directed them to EAP for assistance—but Jasmine and the patient ambassadors wanted to take it a step further. In collaboration with the patient experience managers at the account, Jasmine developed the solution: a resource they dubbed "The Positivity Corner."
A Brand-New Approach!
Drawing on our principles of "caring for the whole you," the Positivity Corner offers creative resources to boost morale among associates who are dealing with stress. The central feature of the Positivity Corner is a colorful gumball machine—but instead of gumballs, the machine spits out a positive message and a piece of candy in each capsule. These "positivity tokens" give associates a pick-me-up in each capsule.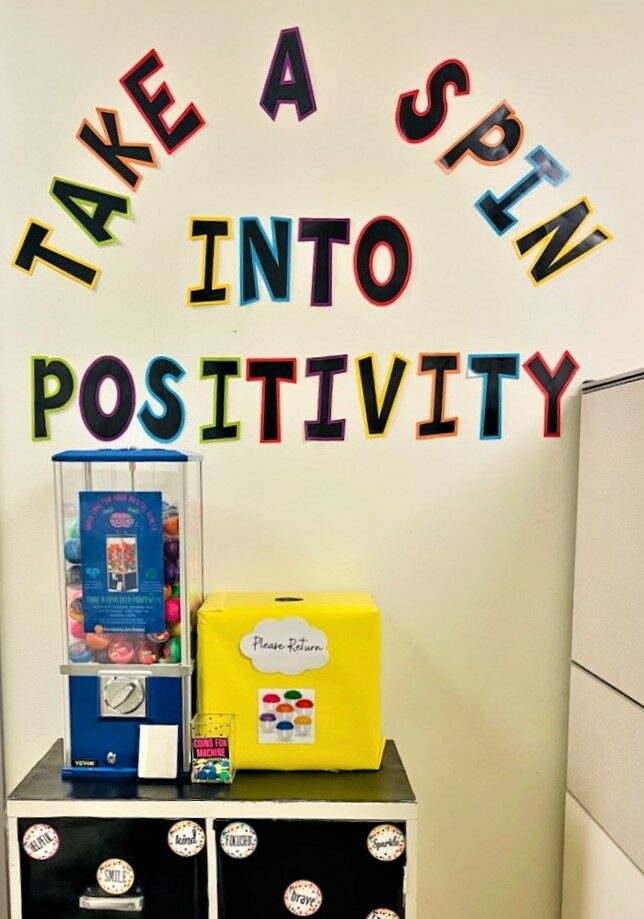 Along with the gumball machine, the Positivity Corner is the new home of a sanitation station where associates can sanitize their personal belongings before leaving at the conclusion of their shift. The Positivity Corner also utilizes a bulletin board for posting beneficial mental health resources such as the Employee Assistance Program, Crisis Line, the Suicide Prevention Hotline, and others.
The team has undoubtedly benefitted from the presence of this new space, but they aren't the only ones. One of the first things you're sure to notice when you step into the Positivity Corner is a board boldly announcing: "You make a difference." The board is covered with messages from patients and caregivers talking about the positive impact that our EVS associates have on their lives every day.
Caring for the Caregivers
It's easy for stress to build up when working in the hospital—anyone in the healthcare industry knows this. Everyone must collaborate, often in high-intensity situations, to ensure that patients receive the best possible care. That's why having a space where hospital staff can take a moment to breathe, receive an empowering message, and be reminded of the difference they're making every time they clock in for a shift is so incredibly important. Not only does this give our EVS associates the boost they need to continue providing their best support to caregivers, but it also gives caregivers a space to look for their own positive pick-me-ups. Hospital staff, including the CEO, have frequented the Positivity Corner to give them an emotional boost.
Staying Positive Every Day!
The Positivity Corner has already become a staple for Parkland Health's team, exemplifying the ways in which we strive to care for our associates and the caregivers they work hand-in-hand with. Jasmine, who has since been promoted to project manager, and her team hope that this space will continue to bring positivity into the day-to-day routine of the staff.
If you or someone you know is looking for mental health support, contact the Suicide Prevention Hotline by dialing 988.
Business Inquiries
Let's Talk About the Right Solution for Your Organization
Get in touch to discuss how Crothall Healthcare's services and solutions can help your healthcare organization exceed its goals. You'll learn more about:
The transparency we bring to outsourced support services
How we design customized solutions for your unique needs
The technology and innovation Crothall delivers across all our services