Since returning to Crothall in 2013, I've developed a passion for researching new technology that helps us mitigate infectious diseases. While our research clearly took a back seat lately as we worked to disinfect hospitals in New York City to stave off COVID-19, our testing and evaluation of new products helped provide a cleaner and safer environment during the crisis when hospitals needed them most. 
By Paul Fratta, Regional Director of Systems & Programs, New York and Northeast Region, Crothall Healthcare 
As the pandemic reached its height this spring, I had the privilege to lead our Environmental Services (EVS) operational team as we cleaned and disinfected several New York hospitals. These hospitals included the makeshift Jacobs Javits Center, which was turned into an auxiliary hospital with 1,700 beds to handle the overload of patients. 
It was an extraordinary challenge to help keep hospitals safe during a once-in-a-lifetime pandemic. But using EVS's systems and programs that are the foundation of our work, we've been able to meet our client's' needs. Here is how we handled our biggest issues: 
Biggest Challenge
As hospitals worked to understand the magnitude of the crisis, we needed to assure them – and our staff — that Crothall has the most innovative and proven technology available to guide us through the pandemic. This was even more difficult since hospital administrators and medical experts were inundated with proposals by other companies with alleged solutions to disinfect their facilities. They were even getting inquiries from companies with no healthcare experience or case studies to back their claims.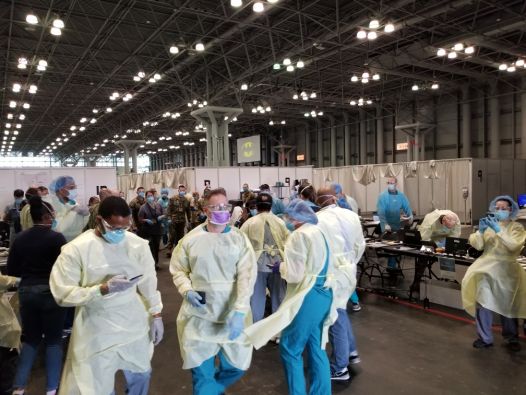 But our knowledge and experience quickly became apparent, especially our ability to use proven technology. For example, waiting rooms were equipped with technology made by Scientific Air Management (SAM) that destroys airborne pathogens where several people may be coughing or sneezing. In addition to using this technology, we installed banners explaining how this equipment works so staff and patients could see the hospital cared for their safety. Electrostatic sprayers were also used in high-traffic areas on chairs, hand rails and other "high touch" areas. 
Showing Leadership through Communication
Hospital administrators and medical personnel looked to us for leadership during the crisis. So, clear, concise communication was integral to helping them understand how we would get them through it. 
To demonstrate our expertise during and after the crisis, we developed a booklet titled the "Post Pandemic Guide for EVS Operators" that explained the processes, tools and best practices used in our operations. The booklet covered a wide range of issues on our cleaning and disinfecting approach and gave hospital leaders peace of mind that we had their safety uppermost in our minds.

Here's a great example: After showing our booklet to a hospital administrator in Brooklyn, N.Y., the client took steps to purchase three SAM units to disinfect the air in high-traffic areas of their buildings. The playbook was so well received that it's been adopted throughout Crothall as the best approach to make the transition from COVID to non-COVID operations. 
Staff Training
Some associates had difficulty working in hospitals in those early days. But once people were trained in the disinfection process, it became easier for associates to carry out their duties. 
Because of the unique situation, in many cases our training took place at the hospital.  There were many days that I held demonstrations for associates and trained them how to use the electrostatic sprayers, disinfect the walls in each patient room and carry out other duties. In all, I trained approximately 100 people myself. 
Our knowledge of disinfection practices also extended beyond our own associates. I worked closely with the US Army Corps of Nursing, which was called to the Javits Center to help provide patient care – an honor for me, since I served eight years in the US Army. 
I was in constant communication with the nurses for several weeks; they informed us when a patient was discharged, so we could disinfect that room. But I also needed to educate them.  For example, I needed to train a lead nurse about proper waste management after seeing water cups and other debris in the red bags designed for Regulated Medical Waste (RMW). 
Impact of R&D Work at Crothall
Since returning to Crothall in 2013, I've been a member of several committees, including one that does research to evaluate the newest technology to help mitigate infectious diseases. The Compass Crothall Products Committee has not only given me an opportunity to have an impact on our ability to help clients – it was extremely valuable in providing clients with information and real-world examples about how we could help them through the COVID-19 crisis. 
I was also fortunate enough to lead the Crothall team on our discovery of SAM's airborne pathogen reduction technology. As part of our research team a few years ago, I contacted several industry contacts to find a solution that would prevent infections carried through the air. I had several conversations with SAM's chief financial officer, and we eventually tested and approved the company's product for use in several hospitals. And this technology has played a key role in our COVID-19 treatment and overall airborne pathogen eradication process. 
This technology has a wide range of uses – in hospital pharmacies, as well as areas with high-risk patients, including burn and intensive care units because it helps reduce harmful particulates that could cause infections. As I've mentioned, we've also been able to use it in waiting areas and hospital lobbies. 
Fortunately, before the virus hit, we used SAM's in our hospitals, specifically Elmhurst Medical Center in Queens, N.Y., which was at the pandemic's epicenter.  
None of us ever wants to go through this kind of crisis again.  But when our team escorted the last patient from the Javits Center, it was clear we had the people and processes in place to perform at the highest level during a difficult period. We met the challenge head-on, helping hospitals in New York operate in the safest environment possible to care for each and every patient.  
Business Inquiries
Let's Talk About the Right Solution for Your Organization
Get in touch to discuss how Crothall Healthcare's services and solutions can help your healthcare organization exceed its goals. You'll learn more about:
The transparency we bring to outsourced support services
How we design customized solutions for your unique needs
The technology and innovation Crothall delivers across all our services