COVID-19 Resources
These are unprecedented times. We're here to help.
Crothall and Compass One Healthcare responded to COVID-19 with new products, new protocols and new ideas but COVID-19 was not the first coronavirus and may not be the last. Make sure you're ready for what's to come.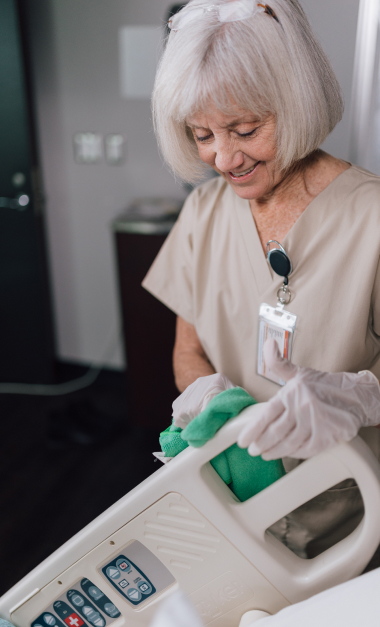 Your Safety is Our Priority
Crothall Healthcare and the entire Compass One Healthcare family are taking all the necessary steps to address the impact of COVID-19 on our healthcare partners. We are committed to ensuring a safe environment for our patients, caregivers, and associates. To that end, we are following the guidance provided by the CDC, WHO, and other health authorities. As healthcare providers across the country continue to battle the coronavirus, we understand that we are all in this together. Everyone must participate to make this work. We understand.
You and your Staff are on the front lines and we are supporting you in every one of our services. Whether we are serving patient food, disinfecting patient rooms and public areas in acute or ambulatory sites, transporting patients, maintaining biomedical and imaging equipment, keeping your facility operating at peak performance, sterilizing surgical instruments or processing your laundry we are there when you need us.
We will "stop the spread" together. Believe it.
Environmental Services
Crothall Environmental Services is on the front line supporting your Clinical Staff. We've always been about the right people, right products and right protocols. During times like these, we want to make sure you're able to create a safer environment that feels comfortable to everyone through The Power of Clean. Here are a few things we've learned.
Extend the life of PPE with surfacide UV-C

Stretch critical resources like masks by using Surfacide UV-C machines. Masks should be grouped and marked in such a way so that they are returned to the original user, safely bagged and transported to a room inside the hospital which is equipped with 3 ultraviolet light towers.

Redeploy associates to support EVS

Some support service functions may experience lower volumes of work during the COVID-19 crisis. To keep up with a higher demand for cleaning, consider temporarily redeploying associates from other departments after receiving training to support EVS. We're all better together.

Perception of clean

Many patients' healthcare experiences are scarier than normal as hospitals are forced to limit families from entering their facilities. The perception of a clean healing environment can be comforting to patients who are having to go through treatment alone. Use signs within your hospital and digital communications (social media, website, patient portal, etc.) to tell patients what you're doing to keep them safe if and when they do arrive.

Focus cleaning efforts to critical areas

During a pandemic it can be tempting to clean all areas with equal vigor. However, with many hospitals experiencing limited staffing and financial resources, focusing deep healthcare-grade cleaning to the most critical and highly trafficked areas is advised.
Facilities Management (FM)
As hospitals adjust for surges in patient volume, FM can help make sure existing rooms are safely converted for COVID-19 patients, and help your hospital prepare additional bed space. Whether it's a pop up hospital or other temporary facility, try some of these best practices at your hospital.
Convert to Airborne Isolate Rooms

The rate at which the coronavirus is spreading differs by city and state, but all hospitals should have a plan to convert regular patient rooms to negative pressure rooms. Be sure to explore other spaces that can be converted for COVID-patient care. With stringent restrictions on guest entry, some hospitals have transformed lobbies into airborne isolated rooms. These adjustments also benefit hospital staff who feel more secure once these adjustments are made.

Regular Meetings With Local and Federal Agencies

As the epicenter of the virus shifts to different cities throughout the country pop up hospitals and medical tents will be crucial for treating patients. Getting these alternative medical sites up and running is made possible through strong relationships and regular communication with local and federal agencies. Set up regular meetings with local and national officials to streamline communication and decision-making processes. Need help? Reach out to us to learn how we helped hospitals in New York.

Staffing Contingencies

Develop a staffing contingency plan in case your FM department needs to operate with fewer people. Include guidelines for preventive and corrective work order management, and a guide to reducing staff in 25% increments. Make sure it covers the potential to supplement FM staff with vendors or temp agencies.

Split Management Teams

For prolonged crises like COVID-19, hospitals cannot afford to lose an entire management team within any department due to exposure. Split management teams into A & B groups: while one group is "on shift" at the hospital, the "off shift" group can work remotely to handle admin tasks. Splitting teams can prevent a whole department from being exposed at the same time and ensures 24/7 support also.

Oxygen Supply Systems

COVID-19 is placing enormous demands on healthcare facility's oxygen supply systems. The current treatment process heavily taxes both the bulk and cylinder supply. Ensuring your hospital's systems are in the best operating condition is crucial to getting through these days. Reach out to your vendors and supplier to ensure you're prepared.

Postpone All Non-critical Projects

Many construction projects can and should be postponed during a crisis. Staff previously managing those projects can redeploy to Facilities Management to help build up needed headcount to support a 24/7 operation.
Patient Transportation (PT)
Patient transporters are uniquely trained in infection prevention and safe handling of patients, plus they know your hospital's layout like the back of their hand. Here are a few tips to leverage your hospital's PT department beyond transporting patients to support your nurses.
Bolster Patient Observation Services

Some high-risk patients require supervision 24/7. During a pandemic, hospitals and their support services teams should do everything possible to relive nurses from observation duty so they can treat others who are sick. Shift some patient transportation staff to patient observation to look after high-risk and COVID-positive patients.

Redeploy Staff to Support Nursing

Under normal circumstances, when patients arrive at a hospital's front entrance, patient transporters move them from their car to inside the hospital. To limit exposure, redeploy transporters who typically provide curb-side service to help elsewhere. Transporters can help nurses with patient temperature checks, documenting information, or other tasks the caregivers need.

Establish PPE Command Centers

Hospital medical staff and patient transportation teams can work together to set up PPE command centers. A command center, or one central location where all PPE is collected and distributed prevents inefficient use of precious PPE. When someone requests additional PPE, patient transporters can deliver it throughout the hospital, and because their job requires them to know the most efficient routes, they're a perfect candidate to quickly get PPE to whoever needs it.
Clinical Engineering & Healthcare Technology Solutions
Crothall's clinical engineering division provides management, oversight and maintenance of all medical devices and technologies in hospitals across the county. Clinical engineers work with caregivers to ensure that clean and safe equipment is available for nurses when they need it. Easing nurse frustration has never been more important. Test these clinical engineering best practices at your hospital so nurses can get what they need to keep saving lives during this crisis.
Include Clinical Engineering in Existing Task Forces

Make sure a representative from your hospital's clinical engineering team is included on the appropriate COVID-19 task forces. As COVID-19 continues to impact equipment availability, including ventilators, your hospital's clinical engineers can provide critical information about new equipment, deployment and maintenance.

Tracking Covid Equipment

Utilize Crothall's Team Trace computer maintenance management system (CMMS) to identify and track equipment designated for COVID-only use. Special COVID-only coding in Team Trace can help your hospital easily track COVID inventory and make important decisions quickly as your hospital's equipment needs change.

Equipment Cleanliness and Disinfection Policy

Ensure all equipment coming into biomedical engineering workshops and storage areas is disinfected and cleaned on arrival and segregated in the designated shop clean equipment area.

Daily Reporting

As the situation evolves quickly and with varying degrees of severity across the country, daily reports can help hospital leaders keep tabs on what equipment is available, where it's located, and what might need to be rented to make up the difference.
Communication plan
Be sure to address these three groups of people as your organization makes COVID-related decisions.
Patients & customers
Keep communication channels open with patients and customers open by relating important updates through signage, patient portal or digital communications.
Healthcare professionals
Offer daily infection control and medical-related updates for department leadership to cascade to staff. Record updates and post to your intranet.
Support services staff
Schedule recurring virtual staff meetings or huddles. Involve system leadership and context experts to develop an action plan, share best practices and updates. Also use this time to debunk any rumors that may have popped up to ease anxiety.
Business Inquiries
Let's Talk About the Right Solution for Your Organization
Get in touch to discuss how Crothall Healthcare's services and solutions can help your healthcare organization exceed its goals. You'll learn more about:
The transparency we bring to outsourced support services
How we design customized solutions for your unique needs
The technology and innovation Crothall delivers across all our services