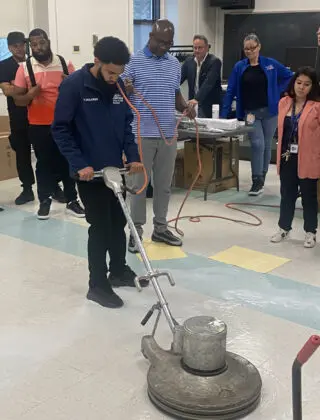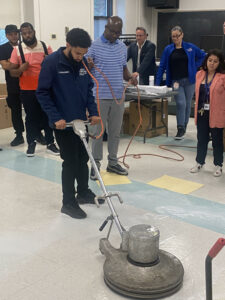 Floor technicians have historically been difficult to recruit for the Environmental Services (EVS) sector, as the position requires very specialized training and resources. When recruiting for these positions, the same question would inevitably arise: "What training resources can you provide for floorcare?"
Motivated by that very question, a Crothall Healthcare team led by Marissa Janneire (Senior RDO, NYC), Diversey Training Team, Greg Ziegler, Foodbuy, Paul Fratta and the EVS Directors in her region organized a solution to upskill their team: The Floorcare Training Academy.
Antoinette Williamson, EVS Director at Kings County took the lead to help organize, enroll, and make sure everyone had the very best experience. She knew that the best way to reach as much of the district as possible was to meet the frontline right where they were, in Kings County, New York City, and bring the training to the frontline.
Three systems in the region were represented at the Floorcare Training Academy: NYC Health & Hospital, Brooklyn Hospital, and Maimonides Medical Center. It took place over three days and was organized into several classes of 25-30 people, each led by a facilitator. The training sessions consisted of presentations and demonstrations which gave participants hands-on experience with various floorcare tasks. They also held an "All-Star Challenge," where the participants who could demonstrate the highest understanding received a $100 gift card.
While there were only a few designated facilitators, they were not the only leaders. Early in the Training Academy, team members who were familiar with aspects of floorcare naturally took on a guiding role toward inexperienced participants. The Floorcare Academy became more than just an educational experience, but a collaborative one as well, with participants helping each other learn. Working as a team rounded out the experience for the participants and encouraged their confidence as well as their skills.
The participants expressed incredible pride in themselves and each other. From beginners to experts, everyone left with new, applicable knowledge to bring back to their teams. More than that, they were excited to put their new skills to use in their hospitals.
"When you take on something like this, sometimes you don't know what the outcome will be," Antoinette shared. "But in the end, it was a huge accomplishment."
There will be another Floorcare Training Academy on July 13th, this time focusing on Medama and iron- coating processes. After that, the team hopes to increase the frequency of the floorcare academies to once every six months and extend the time span to a full week. The developing program promises to bring more and more EVS team members the opportunity to grow their skills in floorcare and beyond and drive our success!
Business Inquiries
Let's Talk About the Right Solution for Your Organization
Get in touch to discuss how Crothall Healthcare's services and solutions can help your healthcare organization exceed its goals. You'll learn more about:
The transparency we bring to outsourced support services
How we design customized solutions for your unique needs
The technology and innovation Crothall delivers across all our services