As many of you already know, TechNation magazine recently announced its inaugural "40 Under 40" spotlight. Our very own Healthcare Technology Solutions (HTS) team members- Codi Nelson, Eddie Meyers, Natsumi Shiotani, and Rana Helou- were featured based on their professional achievements and earned merits and the positive influence they bring to the healthcare technology management industry. We thought it would be nice to get to know these rising stars a little more. Apply now to be featured in TechNation's 2023 40 Under 40.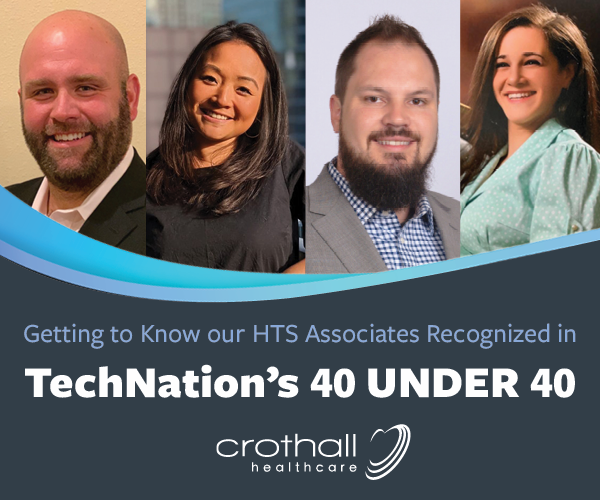 Codi Nelson, who has been in the healthcare technology management industry for 15 years and currently oversees our Apprenticeship program with AAMI, says his favorite experiences with Crothall are the continuous encouragement and opportunities for growth.
"Even as a technician, I was included in several companywide initiatives; including leading special projects, participating in sales presentations, developing new company offerings, starting up new accounts, and being allowed to participate in many volunteer opportunities with AAMI and the NCBA," said Codi.
Eddie Meyers, director of cybersecurity for Crothall HTS, encourages anyone who is interested in pursuing a career in healthcare technology management to always stay curious about the role and the industry. He suggests doing research and using any resources available to find solutions and information about the ever-evolving world of technology.
"In the very near future all medical devices will be connected to our client's network, and we need to have a strong IT understanding if we are to stay relevant," Eddie said.
Both Codi and Eddie became a part of the Crothall family by default when their previous employers were acquired by Crothall, and they had their reservations due to their former teams being small and feeling like family. However, both of them quickly realized that under great leadership and with passionate coworkers, their new teams were able to replicate the familial feeling.
It's no secret that healthcare technology management is a male-dominated field. Natsumi Shitoanu and Rana Helou are both following the path that was paved by powerful women before them. They are simultaneously paving the way for others who are all continuously breaking gender barriers and expectations in their careers.
Natsumi joined Crothall with a positive attitude and a desire to learn all about the industry by working in a fast-paced environment. She has been able to lead teams in different initiatives and projects to help improve her account's technology to ensure patient health and safety.
Natsumi said, Kelley Harris, resident regional manager at Ann & Robert H. Lurie Children's Hospital of Chicago, "has always been so supportive in my professional (and personal) growth and has always advocated for me, which has helped shape my confidence in my career in a male-dominated field."
Rana, a biomedical engineer, had a passion and curiosity for the inner workings of medical technology that led her to a career with Crothall. Her journey from inventory specialist to manager helped her to learn more about herself, as well as the industry and the future of technology, all factors that help her to continue to grow and advance as a healthcare technology management professional. To any young woman interested in pursuing a career in healthcare technology, Rana gives the following advice: "Do not be afraid of challenge or transition because you will never advance if you do not face the trying phase. You only fail if you do not try."
Crothall Healthcare extends a huge congratulations to each one of these HTS team members who were recognized. Your hard work is not unnoticed, and we appreciate the dedication and passion you bring to the Crothall family!
Keep an eye open as we will continue to spotlight amazing talent.
Business Inquiries
Let's Talk About the Right Solution for Your Organization
Get in touch to discuss how Crothall Healthcare's services and solutions can help your healthcare organization exceed its goals. You'll learn more about:
The transparency we bring to outsourced support services
How we design customized solutions for your unique needs
The technology and innovation Crothall delivers across all our services