During these challenging and uncertain times, we can and should reflect on the bright spots. One such bright spot for our company was in the Pacific Northwest in none other than Portland, Oregon. As the fiscal year concluded, there was one account that stood out.
Legacy Emanuel, the flagship of the Legacy Health System, had an amazing year. Not only did they qualify and receive the Platinum Plus Award, but they also won the Western Region Account of the Year, out of 58 accounts!
Chris Belknap, RRDO, and his team kicked things off this fiscal year by expanding their presence within the Legacy System by adding a new start-up, Legacy Mount Hood. This account began like any other, with some bumps in the road, but after some key operational changes and establishing a platform of standard work, Legacy Mount Hood was achieving great things! Managed by Director, Daniel Olivarez, and supported by Chris, Mount Hood was able to take the Crothall program from 0% Standardization on day 1 (all start-ups begin at zero) to an impressive 90.1% for the YE audit. They were able to increase their Patient Satisfaction by more than 10% year over year and saw some of the highest individual month scores in Mount Hood history!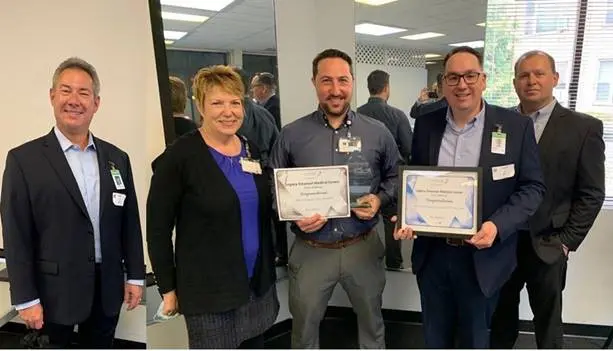 The Legacy Health account, however, did not stop with the new start-up and the two Regional Awards. Adding to the accolades for 2021 was the company's first ever GEM Individual Inclusion Excellence Award, given to Assistant Director Robert Jerand. There were so many awards that it warranted a custom award shelf in Chris' office!
Chris knew that partnering with his client and believing in the Crothall Program were the best ways to ensure success. Through careful training and an encouraging people culture, his belief in the program spread. He played to peoples' strengths rather than limiting them to a specific job description. One great example is Robert's, who was nominated for the GEM Individual Inclusion Excellence Award by Assistant Director Misty Lamb.
Additional accomplishments and amazing results:
An extensive Standardization Audit by RDO David Hill yielded a stunning 98.6% compliance score! This is one of the biggest requirements to be considered for Platinum-Plus and Regional Account of the Year and is difficult to achieve, especially during a year plagued by COVID, vaccination requirements, and civil unrest.
Two successful scope increases include MOBs at LEH, MH as well as Holladay Park.
While many EVS directors were struggling with staffing levels, Legacy Emanuel's remained relatively stable, with 62% of their new hires making it through probation.
Patient Satisfaction rose into the 80s for 3 out of 4 quarters.
Union negotiations were navigated with no disruption to service.
The team even promoted seven people, from the team and within Legacy Health.
According to Chris, one of the key factors to the team's success was an extremely strong partnership with his client, Deb Hassler, Sr. Director of Clinical & Support Services. While Crothall's specialized knowledge is at our Core, we are also true Legacy. Our badges, offices, access, and everything else represents that of a Legacy Employee. It's our job to provide management solutions, but also to assimilate into the culture of the Site. This was seen when Chris was asked to take on the role of Logistics Chief for the Emergency Operations Center in response to the Covid-19 Pandemic.
"Having this kind of trusting relationship, where our client knows that we will always do the right thing, has been key to our success," said Chris. "As a result, we were able to showcase our practices at Legacy Emanuel and earn these awards."
Business Inquiries
Let's Talk About the Right Solution for Your Organization
Get in touch to discuss how Crothall Healthcare's services and solutions can help your healthcare organization exceed its goals. You'll learn more about:
The transparency we bring to outsourced support services
How we design customized solutions for your unique needs
The technology and innovation Crothall delivers across all our services