Crothall continually brings sustainable cleaning products to hospitals for deployment that also improve patient safety. Some of the newest products are generators that produce electrochemically-activated disinfectants – and replace harmful chemicals – now in use at several hospitals, including Boston Medical Center and New York Presbyterian Hospital.
The device creates a disinfectant that eliminates the toughest bacteria, viruses, and fungi. It contains hypochlorous acid, (HOCI), created when chlorine dissolves in water. It is chemical-free, non-toxic, biodegradable, and safe for patients. The product is generated onsite, eliminating the need for packaging, shipping, and storage.
"This new, sustainable cleaning product has been proven effective against a broad range of bacteria, mycobacterium, and viruses," says Eric Anderson, Crothall's National Director of Standards, Innovation, and Global Support. "By using it widely throughout healthcare facilities, this product is another major step to improving the safety of patients and medical staff at some of the nation's largest hospitals."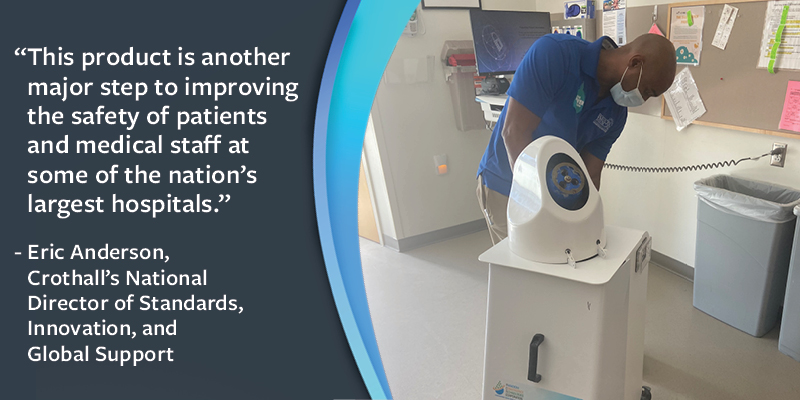 This product is safe to clean several surfaces, including floors, which are often damaged by other chemical disinfectants. It can be disposed of through hospital drains without risk to patients, plants, aqueous systems, or marine life. And it doesn't react negatively with other chemicals, a common risk with competitive products found in healthcare settings.
Hospitals are using an average of 1,300 gallons of this disinfectant every 30 days instead of non-sustainable products. For example, Presbyterian Hospital at Columbia University uses 40,896 gallons of the new, non-toxic disinfectant annually. This means hundreds of thousands of gallons of water with toxic chemicals have been eliminated from the waste stream.
Business Inquiries
Let's Talk About the Right Solution for Your Organization
Get in touch to discuss how Crothall Healthcare's services and solutions can help your healthcare organization exceed its goals. You'll learn more about:
The transparency we bring to outsourced support services
How we design customized solutions for your unique needs
The technology and innovation Crothall delivers across all our services