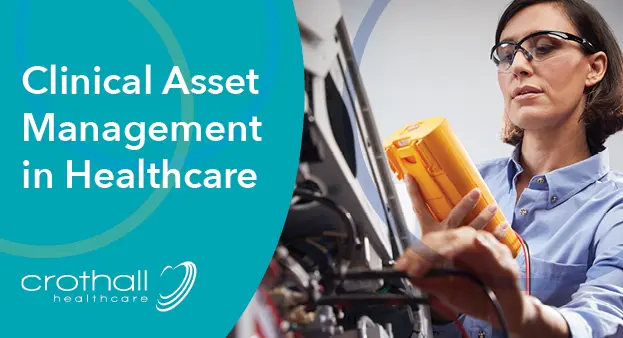 Contributed by Annye Notman, Crothall Healthcare Director of Healthcare Technology Planning
Proper Healthcare Technology Management (HTM) is critical to support clinicians, enhance patient care, and maximize medical resources. Here are a few ways HTM partners can help a clinical asset management program and enable hospitals to save money in ways that some in house biomedical departments cannot do due to lack of available resources.
Enhanced Data Through Centralized Resources
Reliable HTM partners, like Crothall Healthcare Technology Solutions, have access to centralized resources that may not be in a hospital's in-house department. In Crothall's case, there is a compliance department that standardizes all quality management systems and ensures hospitals meet regulatory compliance and a capital planning department with the ability to assess medical equipment inventory using more data than some in-house clinical engineering teams.
Capital Planning
Capital planning departments help clinicians determine when a medical device is nearing "End of Life" and makes budgetary recommendations for replacing equipment. The Healthcare Technology Planning department at Crothall considers several factors when analyzing replacement urgency with a proprietary algorithm. Crothall will help keep patients safe and prevent premature capital expenditures with this information. For example, if both ventilators and patient beds are nearing end of life, with all other factors the same, equipment risk will determine the ventilators should be replaced first due to patient safety.
Access to Parts and Data
HTM partners, like Crothall, also has a central procurement team who secures medical equipment parts even when original equipment manufacturers (OEMs) discontinue support for certain models. This is important because HTM partners can ensure equipment is regularly maintained and in safe working condition while extending useful life of the equipment.
Outsourcing to an HTM partner, also means gaining access to intelligent data on approximately one million pieces of medical equipment. One benefit is the length of medical assets' life can be better predicted because there is data outside a singular hospital or health system.
Maximize Readiness and Availability
Ready When Clinical Staff Needs It
Crothall takes several steps to make equipment ready and available when needed. One way we do this is by using flexible maintenance schedules. Crothall establishes and follows a diligent cycle of scheduled maintenance. Crothall can also stagger shifts or perform maintenance overnight and on weekends to ensure the equipment is available during peak hours. Crothall develops customized service delivery strategies focused on maximizing the uptime of medical equipment.
Reduce Equipment Stockpiling
Another challenge of proper equipment utilization ISOs can help hospitals tackle is stockpiling. Sometimes clinical staff fear equipment will not be available when they need it; they may store equipment where they know they can find it. This practice may result in a perceived inventory shortage that could lead hospitals to make unnecessary clinical asset purchases. Stockpiling also makes it difficult to properly service equipment regularly.
One solution is Crothall's EquipReady centralized equipment distribution program. EquipReady ensures clinicians will have clean equipment available, enabling them to focus on patient care and other clinical responsibilities. Additionally, it has been demonstrated EquipReady can mitigate healthcare-acquired infections (HAIs) because equipment is centrally located allowing for proper cleanings as well as easy access for patient care and scheduled maintenance.
Working with HTM partners who prioritize the caregivers and patient experience can increase both hospital staff and patient satisfaction.
Optimize Asset Inventory
Crothall tracks data on roughly one million medical assets which provide unique insight into asset benchmarking. Crothall uses this information to help prioritize capital planning so you can plan to replace medical equipment instead of facing unexpected equipment spend. Crothall can help point out areas where equipment can be better used versus keeping underutilized equipment. Advanced analytics at Crothall offers critical insights into whether to repair, replace, or remove an asset from service. These analyses are extremely helpful and yield the best return on investment (ROI). Using asset data to help plan equipment replacement can prevent unexpected equipment expenses and allows hospitals make informed financial planning decisions.
Flexibility Based on Operational and Clinical Needs
Crothall can modify your services based on your hospital's operational and clinical needs. This is especially critical in times like today, as we experience this pandemic. Crothall can provide hospitals with the support they need by analyzing inventory to ensure standardized medical equipment purchases. Crothall is a reliable resource of information for hospitals to provide better patient care at a lower cost.
Having an HTM partner, like Crothall, can enable you to better manage your medical assets by following a data-driven maintenance schedule and servicing a device until it reaches its true end of life, rather than replacing it when it is simply no longer supported by the manufacturer. An HTM partner also relieves the burden placed on nurses and other healthcare professionals to find and clean equipment, freeing up their time to focus on patient care and increasing their workplace satisfaction levels. Finally, a partner like Crothall makes sure hospitals have access to information and equipment they need during these critical times.
Business Inquiries
Let's Talk About the Right Solution for Your Organization
Get in touch to discuss how Crothall Healthcare's services and solutions can help your healthcare organization exceed its goals. You'll learn more about:
The transparency we bring to outsourced support services
How we design customized solutions for your unique needs
The technology and innovation Crothall delivers across all our services