"The task of the leader is to get his people from where they are to where they have not been."
The Healthcare Technology Solutions Division, in the New York and North Field Service Region, recently recognized their outstanding leader, Shashi Avadhani for his team spirit and dedicated leadership. Shashi Avadhani is the Regional Vice President for HTS in the New York and North Field Service Region. He started with Crothall back in 2005 and currently leads a team of 100+ associates to huge success.
As a leader, Shashi never says no to team appreciation! Each year, Shashi hosts a Team Appreciation Dinner where the team is recognized for their hard work, dedication, and successes. Tracey Paulsen, Director of Client Relationships, is Shashi's right hand. She coordinates the yearly event for the entire team by inviting them and a guest to join in the celebration. Tracey says, "the guys are always out in the field, and I wanted them to all get together under one roof and enjoy each other's company!" This year, the celebration was held at City Winery in New York City.
Tracey planned the event as she usually does, but with a twist. Instead of recognizing the team, it was time to recognize the leader, the glue that holds to team together. "I had decided to rally the team to see if they were at all interested in presenting Shashi with an award for his hard work", says Tracey. The entire team jumped on board as they wanted to show their appreciation for Shashi's visionary guidance and outstanding leadership, support, and respect.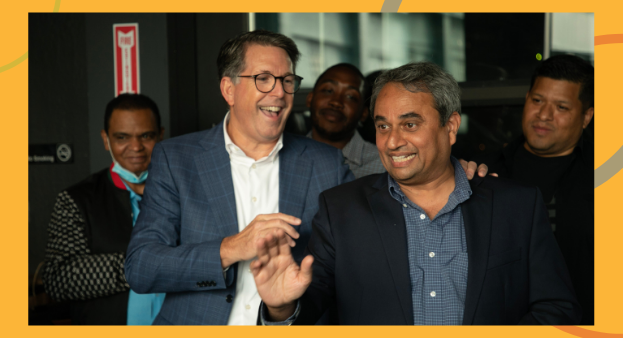 A special plaque was made and written "kudos" were sent for presentation at the celebration. Tracey presented him with the award at the dinner with the entire team there. In attendance were Jim Cheek- Division President, All HTS Regional Vice Presidents, along with Shashi's entire HTS Team.
It was a night to remember! Shashi says, "It was great to see you all who attended. I was humbled and honored to receive the leadership award from my team, thank you so much! I was touched by the notes that some of our team members had sent me."
Recognition can go a long way and a leader who makes it a point to show appreciation for their entire team daily deserves a celebration! After a gathering like this, Shashi's team feels invigorated and ready to get back to their hospitals and do what they do best: ensuring the safety of our patients, clients, and staff through technology.
Business Inquiries
Let's Talk About the Right Solution for Your Organization
Get in touch to discuss how Crothall Healthcare's services and solutions can help your healthcare organization exceed its goals. You'll learn more about:
The transparency we bring to outsourced support services
How we design customized solutions for your unique needs
The technology and innovation Crothall delivers across all our services