BMET Apprenticeship Program
Crothall Healthcare Technology Solutions is Proud to be an Employer Partner of AAMI's BMET Apprenticeship Program
Hear from Our Apprentices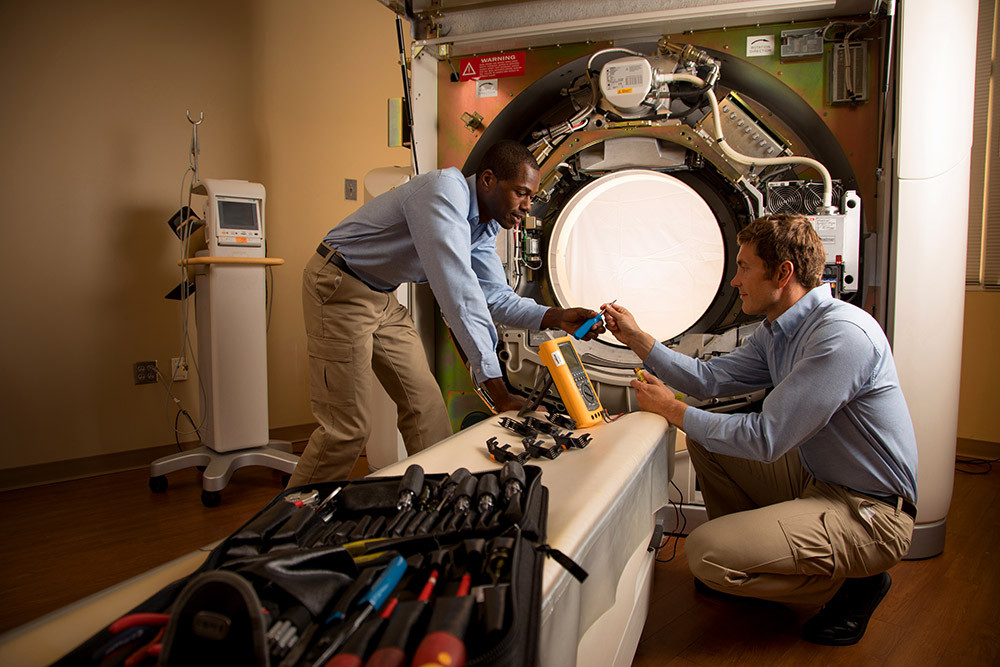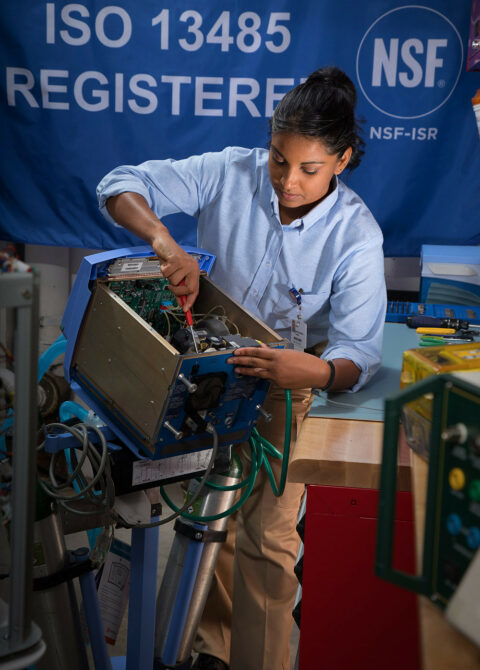 The BMET Apprenticeship
Crothall Healthcare's apprenticeship program for biomedical equipment technicians (BMETs) is designed to help fill the growing shortage of qualified HTM professionals in the healthcare industry. Crothall's BMET Apprenticeship Program, led by Codi Nelson, CBET, CHTM, and offered in partnership with The Association for the Advancement of Medical Instrumentation (AAMI), is a two-year, paid program that combines 4,000–6,000 hours of paid on-the-job training with formal classroom instruction.
To get started, email Codi at Codi.Nelson@crothall.com
Learn More
"Every day, I'm learning something new." - Jonathan, Crothall BMET Apprentice
BMET Apprentices earn a competitive salary while they learn the skills and knowledge necessary to become certified Biomedical Equipment Technicians (BMETs), including:
Hospital orientation and healthcare safety
Anatomy and physiology
Mathematics
Electronics
Biomedical equipment technology
Information technology
Communication skills
Professional skills
It is imperative to invest in and develop the next generation of talent for our industry and Crothall HTS.
Upon completing the program, each apprentice receives a nationally recognized certificate from AAMI and the U.S. Department of Labor. This certificate signifies that the apprentice has been trained to AAMI's recommended minimum competencies and standards.
What are the benefits of Crothall's apprenticeship?
By providing a structured and formalized training program for entry-level BMETs, the apprenticeship is designed to address the shortage of qualified HTM professionals in the healthcare industry.
The program's focus on real-world experience is a key differentiator. By working under the supervision of experienced BMETs, apprentices gain the hands-on skills and knowledge needed to succeed in the field. The program also includes formal classroom instruction, which ensures that apprentices have a strong foundation in the theoretical aspects as well.
The program's national recognition is another significant benefit. The certificate that apprentices receive upon program completion is a valuable credential that can help them advance their careers.
You will work for a leading healthcare company. Crothall Healthcare consistently ranks in the top 10 of Modern Healthcare's Best Places To Work In Healthcare.
Why Crothall Healthcare's BMET Apprenticeship?
These key components differentiate Crothall's apprenticeships from other types of workplace training programs:
Paid Job

Apprenticeships are jobs! BMET Apprentices earn a competitive wage during training.

Work-Based Learning

The BMET Apprenticeship program provides structured on-the-job learning to prepare for a successful career.

Mentorship

BMET Apprentices receive on-the-job instruction from an experienced HTM mentor.

Formal Learning

BMET Apprentices are provided formal instruction on the critical aspects of their careers, such as medical terminology, anatomy and physiology, information technology/cybersecurity, and electronics.

Credentials

BMET Apprentices will earn three industry-recognized credentials:

Certified Associate In Biomedical Technology (CABT)
IT Fundamentals
Certified Biomedical Equipment Technician (CBET) – candidate status

Why Crothall?

Competitive wages
Paid on-the-job training
Formal classroom instruction
Industry-recognized credentials
The opportunity to gain valuable work experience
Research & Resources
Explore the latest insights, research, customer success stories, and more from the healthcare support service experts.