When Hurricane Sandy ravaged New York and New Jersey in 2012, our Facilities Management team helped keep a major New York City hospital open due to proper planning.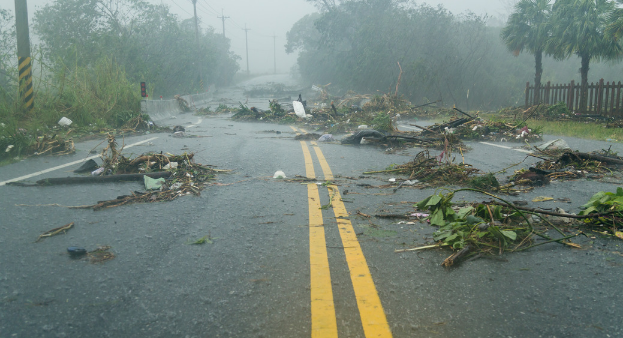 By Ric Letourneau, National Director of Operations – EVS/Quality/Compliance
When Hurricane Sandy ravaged New York and New Jersey in 2012, our Facilities Management team helped keep a major New York City hospital open due to proper planning, a coordinated response with hospital officials and sheer determination. While the New York City subway system and the New York Stock Exchange closed, the extra fuel we bought enabled us to keep generators running and the hospital operating. And it occurred due in no small part to our housekeepers; in parts of the hospital that were flooded, they helped pass buckets of fuel up and down the stairwell to feed the generators.
Hurricane season begins on June 1 for the Atlantic Ocean, the Caribbean Sea and the Gulf of Mexico, so it's time now to prepare for any future natural disaster. We can't underestimate the amount of damage these events can cause for hospitals. For example, after Hurricane Michael landed last year in Panama City, Florida, four hospitals and 11 nursing facilities were closed, according to the Federal Emergency Management Agency. Crothall associate Meghan Sexton has been volunteering for several months to help people there.
When a natural disaster is imminent, patients depend on our expertise to keep them safe while the medical staff counts on us to keep their facility open. For example, a loss of power could have major consequences for surgeons in the operating room or patients on respirators. Working closely with more than 900 hospitals across the country, our team is part of every hospital's disaster preparedness plan, ranging from snowstorms, hurricanes and even occasional utility failures.
As part of the planning process, the good news is that today's satellite technology allows us plenty of time to prepare. Hospitals activate their emergency plans several days before the actual event.  In our case, the Facilities Management leader works closely with the hospital's administration in its command center. All other staff members participate in daily huddles to review each sector's needs; the frequency of meetings increases as the disaster approaches.
Much like our experience with Hurricane Sandy, keeping the water and power running during an emergency is our top priority. As part of a comprehensive water management plan to ensure a safe water supply, we have back-up water removal pumps tested and ready. In addition to extra fuel for generators, teams at each hospital regularly test emergency generators as part of a compliance program to ensure uninterrupted power is available during any natural disaster.
While there are hundreds of items we must consider as part of an emergency preparedness plan, here's what you need to do to prepare your hospital team for a hurricane:
Discuss patient safety procedures with your hospital administration.
We work with the hospital administration to prepare for the needs of patients and staff during and after a disaster. If the weather damages property and drives people out of their homes, we also must be prepared for a surge in new patients looking for treatment. We also make certain the hospital can handle an influx of new patients. We determine if the emergency room lobby can accommodate a surge of new patients within a short period and how we can make that area safe if that occurs.
Test critical life safety equipment to ensure it works during a hurricane.
Prior to any natural disaster, we do preventive maintenance on all critical life safety equipment. This regimen includes regular testing of emergency generator testing protocol for all energy systems to ensure efficient operation.
Ensure all staff can get to and from work safely.
Just like the doctors, nurses and other caregivers, our staff stays on site during these tough times to make sure everyone stays safe. All staff is personally affected, so detailed plans are required to ensure they can get to work and be onsite to keep the facility operating.
Inspect the building to prevent major damage.
We assess the safety of the building's exterior – including the roof, lighting, and windows – to ensure it can withstand the force of a hurricane.
Work closely with local government officials to coordinate an emergency response.
Each of our hospital teams works hand-in-glove with local and state officials, as well as all Emergency Medical Services units that will treat people with injuries that require an urgent medical response, providing out-of-hospital treatment and transport to definitive care.
Determine how long the hospital can stay open.
This assessment, conducted with hospital officials, is a realistic estimate of how long the facility can operate in an emergency. Our role includes accounting for all water and power safety needs, including the amount of fuel for the emergency generators.
Join the Compass One Family as a Crothall Associate
Looking for meaningful work helping people? Do you want to marry your passions and serving others? Check out available opportunities to join the Compass One Healthcare and Crothall Healthcare family. We believe in providing exceptional patient experiences and are proud of the opportunities we have each day to help people and serve alongside world-class clients.
Crothall is a proud part of Compass One Healthcare and Compass Group USA.
Business Inquiries
Let's Talk About the Right Solution for Your Organization
Get in touch to discuss how Crothall Healthcare's services and solutions can help your healthcare organization exceed its goals. You'll learn more about:
The transparency we bring to outsourced support services
How we design customized solutions for your unique needs
The technology and innovation Crothall delivers across all our services