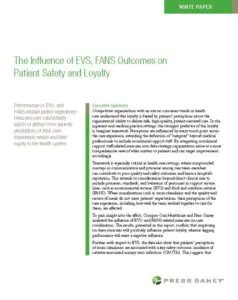 In the inpatient and medical practice settings, the strongest predictor of loyalty is caregiver teamwork. When patients are asked how well the team worked together to care for them, they don't just think about what the clinical team did. They include the processes, standards, and behaviors of people in non-clinical teams too.
Patients' perceptions are influenced by every single encounter throughout their care.
New research from Compass One Healthcare and Press Ganey uncovers how teamwork impacts patient loyalty and analyzes the influence of environmental services (EVS) and food and nutrition services (FANS) on patients' perceptions of their care experience overall.
Access the White Paper Now
Business Inquiries
Let's Talk About the Right Solution for Your Organization
Get in touch to discuss how Crothall Healthcare's services and solutions can help your healthcare organization exceed its goals. You'll learn more about:
The transparency we bring to outsourced support services
How we design customized solutions for your unique needs
The technology and innovation Crothall delivers across all our services