I personally visit between 60 and 75 hospitals each year and nearly every one of them is in some phase of a major construction project. For our Facilities Management team, this means extra planning to ensure we keep the facility safe for visitors and, though it is usually an Environmental Services focus, help to prevent the spread of healthcare-associated infections (HAIs) among patients.
By Ric Letourneau, National Director of Operations – EVS/Quality/Compliance
Our work at a recent construction project at a Connecticut hospital's emergency room is a good example. The heavy snow and sleet this winter made it difficult for everyone to move in and out of the facility, so we needed to take some practical steps to keep the hospital clean.
By placing walk-off mats at all entrances and exits and building temporary walls, we kept the slush and salt away from patients in the ER and prevented contamination within the hospital. Managing the facility to protect it from the weather also means our Environmental Services Team doesn't spend extra time cleaning it up.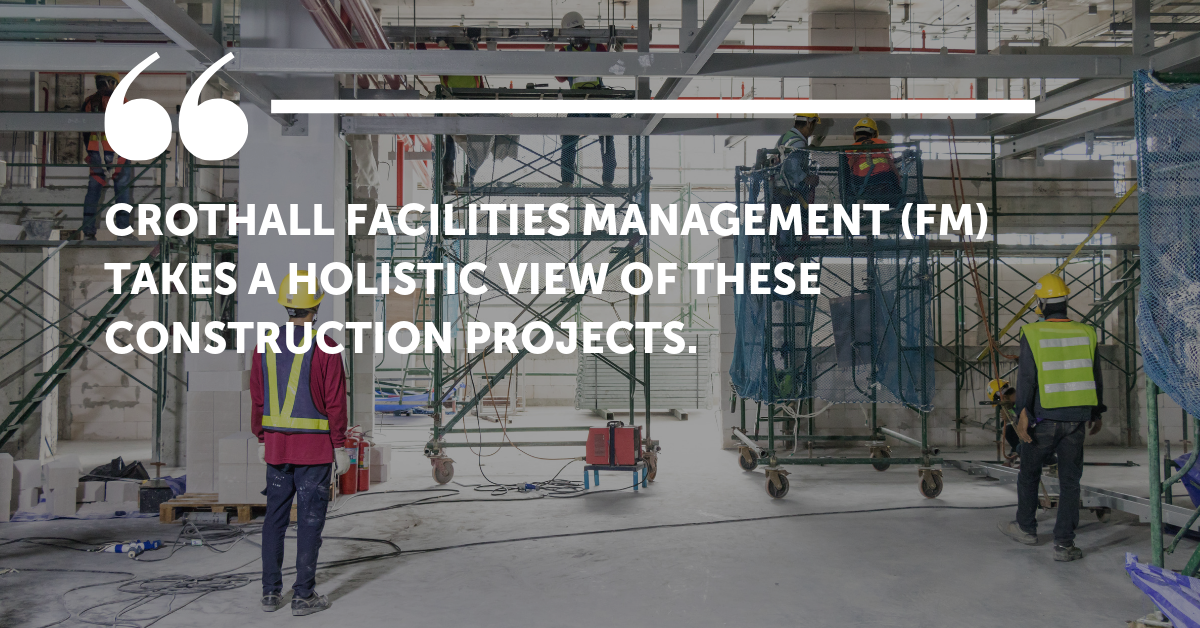 Crothall Facilities Management takes a holistic view of these construction projects. A single healthcare construction project often involves hundreds of people, ranging from designers, contractors, subcontractors, building materials suppliers and other vendors. These workers from several companies are concerned about their particular job, but may not have a vested interest in much else.
In contrast, our FM unit directors take on extra responsibility when construction is underway at healthcare facilities. It starts with collaborating with others in the hospital.  Because our team may not have the ability to identify all potential problems, we depend on the hospital staff and our own EVS team to help identify potential hazards and other issues.
Next, they conduct an infection control risk assessment, where all potential infection risks are identified and addressed. Our team is in regular contact with the hospital's infection control manager throughout construction.
The safety of patients and hospital visitors is the top priority of our assessment. We examine the working conditions, materials and work practices to make certain safety procedures are followed. And we make certain all workers wear safety gloves, glasses and other Personal Protective Equipment to prevent workplace accidents and the spread of infections.
We also examine the impact of construction on fire hazards, the impact on nurses and even how it will affect the airflow within the hospital. For example, I recall monitoring the work of an outside contractor at one hospital that was painting and replacing the roof at the facility. Unfortunately, the paint fumes seeped into the air ventilation system, which contaminated the air inside the facility. We needed to take quick action to shut down that operation until the air was safe.
For patients, our approach focuses on preventing HAIs. On any given day, about one in 31 hospital patients has at least one healthcare-associated infection, according to the Centers for Disease Control. To guide us in this mission, training in the Positive Impressions programs gives our Facilities Management staff the information they need to reduce risk to patients. 
For example, if a maintenance mechanic enters a patient's room, they always wear a medical gown, shoe covers and a mask.  They also wash their hands and sanitize their tools, understanding that they cannot transmit pathogens within the hospital. Crothall's partnership with handwashingforlife® to reduce the risk of HAIs and person-to-person illness is an important component of this approach.
The increased movement of people, materials and equipment throughout the facility during a construction project also requires an increase in the amount of daily cleaning, so we make certain the EVS team knows our daily schedule. During a construction project, it's not unusual for specific rooms, hallways and other areas to be cleaned multiple times during the day.
Through all of this, our FM technicians must continue to be cordial and helpful to anyone within the hospital's walls. Because the facilities staff have a thorough knowledge of the hospital, they are frequently called upon to offer directions to families and other visitors—especially in areas under construction. They are trained to identify someone who needs assistance and then offer them the appropriate guidance.
Healthcare construction projects present several challenges that have the potential to affect patient safety. Using a combination of technical knowledge, practical solutions and training, patient satisfaction will rise and the medical staff and visitors will have a favorable experience during these unusual conditions. 
Business Inquiries
Let's Talk About the Right Solution for Your Organization
Get in touch to discuss how Crothall Healthcare's services and solutions can help your healthcare organization exceed its goals. You'll learn more about:
The transparency we bring to outsourced support services
How we design customized solutions for your unique needs
The technology and innovation Crothall delivers across all our services